LIBRARY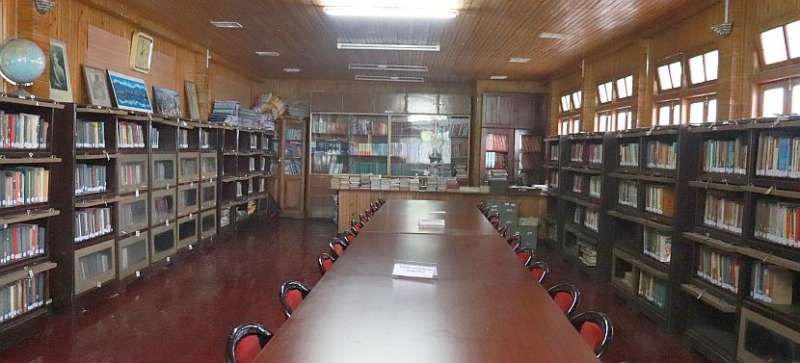 ABOUT LIBRARY
The College Library is well equipped with more than 17036 books, including reference books like Encyclopedia, Dictionaries, Rare Books etc. and Journals fulfilling the information need of the students and teachers by providing access to its vast resources. The Library is planning to subscribe more Journals of NCERT and NCTE. To meet the daily information need of the students & teachers it has subscribed newspapers.
To automate the Library housekeeping operations, KOHA (Library Management software) has been installed.
Computers will be provided for staff to perform Circulation Work, for OPAC (Online Public Access Catalogue). Separate computer will be installing where students can search their required books and journals. The LAN connection will be soon established in library.
Our Library provides suitable environment for study and discussion with helpful and co operative library staff.
Name of the Journals subscribed by the library:
| | |
| --- | --- |
| Title | Publisher |
| Journals of Indian Education | NCERT` |
| Journals of Teacher Education | AACTE |
| Teacher Support | NCTE |
| Indian Journal of Teacher Education | NCTE |
| Secondary Teacher Education | NCTE |
| Secondary Teacher Education | NCTE |
| National Council for Teacher Education | NCTE |
| Journal of Education | WBCUTA |
| Journal of Value Education | NCERT |
| Meri Journal of Education | Management Education and Research Institute |
| Journal of Humanities and Social Sciences | Salesian College |
| Journal of Education | WBCUTA |
Librarian
Smt. Passang Lamu Shrestha :
Librarian
​
Date of Joining :
14th September, 2000
Special Interest :
Reading Books and Listening Music
Qualification :
M.L.I.S
E-mail :
pls.shrestha@gmail.com
USEFUL LINKS:
http://www.wbpublibnet.gov.in/
https://mhrd.gov.in/prashikshak-teacher-education
http://epathshala.nic.in/e-pathshala-4/flipbook/
http://www.ncert.nic.in/publication/journals/journals.html
https://shodhganga.inflibnet.ac.in/